The 2022 International Workshop On Mathematical Issues In Information Sciences(MIIS 2022) was Successfully Held Online
MIIS 2022 was successfully held online from December 17th to December 18th. The conference was hosted by Shenzhen Research Institute of Big Data(SRIBD), co-sponsored by The Chineses University of Hong Kong, Shenzhen(CUHK-Shenzhen), Tsinghua-Berkeley Shenzhen Institute, National Key Laboratory of Radar Signal Processing, State Key Laboratory of Integrated Services Networks, Peng Cheng Laboratory, GuangDong Key Laboratory of Big Data Computing, and National Health Data Institute, Shenzhen.
The conference invited 16 world-renowned experts in the field of data science from academia, including Weinan E, Yinyu Ye, Rui Zhang, Guangtao Zhai, Hairong Zheng, Deren Han, Xiaoping Wang, Nikos Sidiropoulos, Asu Ozdaglar, Chunming Li, Shaolun Huang, Jingdong Chen, Yonina Eldar, Binglong Chen, Ding Zhao, and Tsunghui Chang, to share their academic insights. Over 150 scientists, researchers, engineers, and students attended the conference.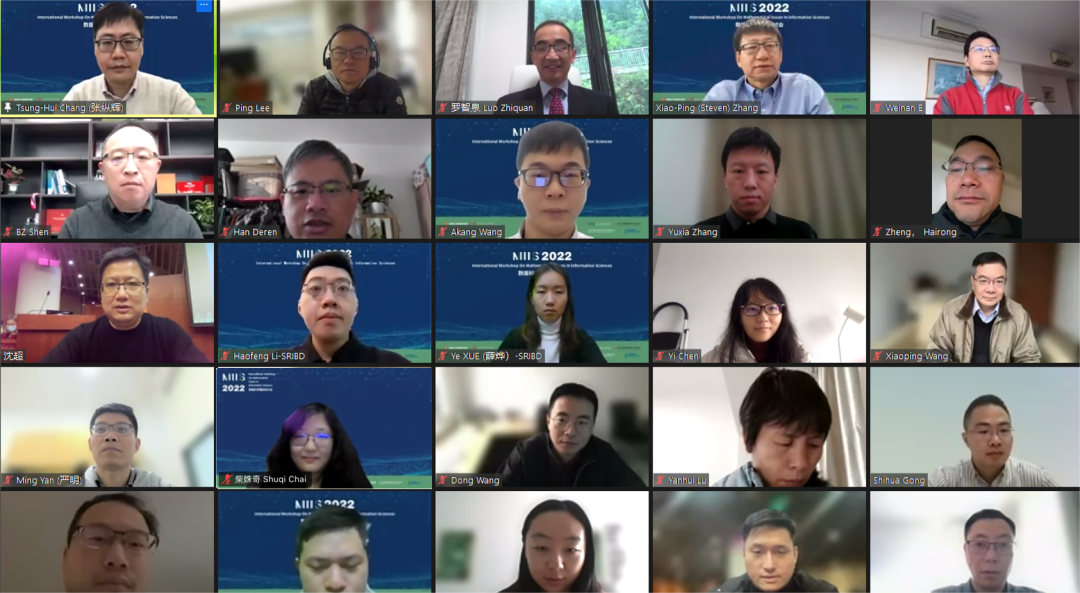 As the global digitization process accelerates, the potential of data elements is continuously stimulated, and the value of data science continues to be highlighted. As a highly influential international conference in the field of data science, MIIS has been held continuously for 11 sessions since 2012, and has become an important international exchange platform for showcasing issues and research progress in the fields of data science, information science, big data analysis, and artificial intelligence. Over the years, the conference has received wide participation and active support from all parties, and has also received focused attention from many experts and scholars.
Opening Remarks from Guest Speaker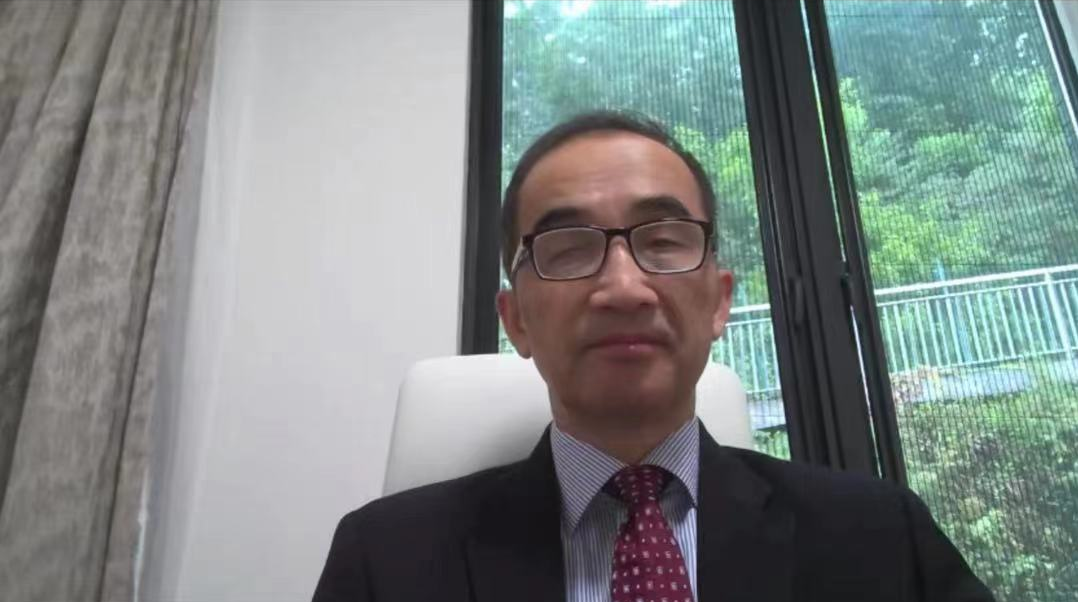 Vice President of the Chinese University of Hong Kong, Shenzhen
Director of Shenzhen Research Institute of Big Data
Academician Zhi-Quan (Tom) Luo
At the opening ceremony, Academician Zhi-Quan (Tom) Luo delivered a warm welcome speech to all the scholars, researchers, and students. He said that the rapid development of information science and related technologies has led to the birth of the MIIS. This year marks the 11th year of MIIS, which has become an international annual academic event in the field of information/data. MIIS adheres to the concept of "mathematics-based, data-driven, and major application-oriented", aiming to exchange and share new ideas, theories, and technologies in the fields of information science and big data, and help promote research and development in the theory and industrial application of data science.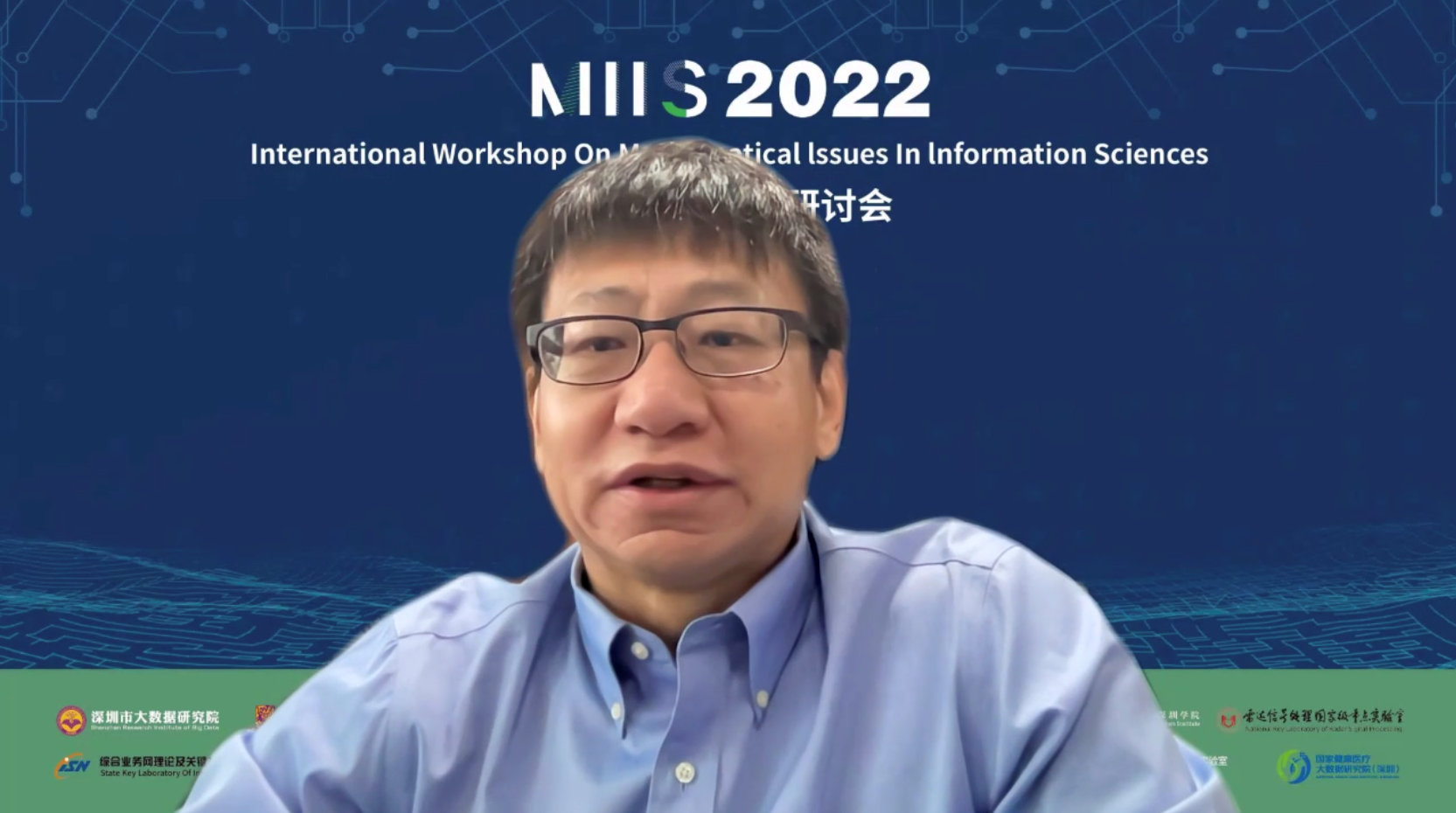 Chief Professor of Information Science, Tsinghua Shenzhen International Graduate School
Academician  Xiaoping Zhang
Xiaoping Zhang, Chief Professor of Information Science,Tsinghua Shenzhen International Graduate School, delivered a speech. He stated that the Tsinghua Shenzhen International Graduate School Data EnabLing Theory and Application Research Center (DELTA) focuses on research in two areas: data empowerment landing and international academic frontiers, with a focus on big data theory and application landing for Smart City. DELTA is committed to promoting the development of information science.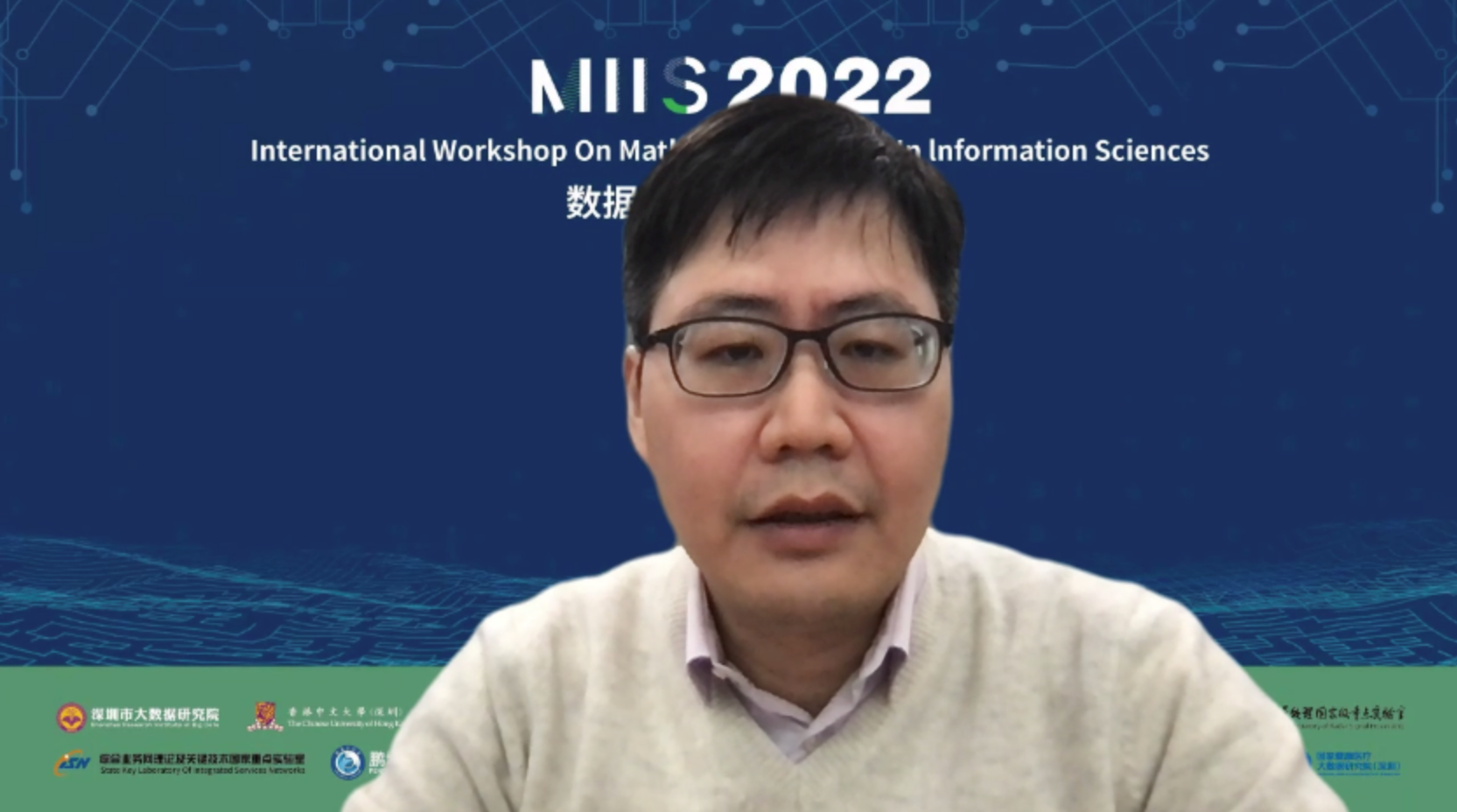 Associate Professor and the Assistant Dean (Education) of the School of Science and Engineering (SSE), The Chinese University of Hong Kong, Shenzhen
Associate Director of Laboratory for Information Network and Systems, Shenzhen Research Institute of Big Data
Tsunghui Chang
Review
Professor Tsunghui Chang introduced the main co-organizers of the MIIS seminar and stated that the seminar aimed to inform participants of the latest research progress and trends in the field of data science and related areas. He hoped that the seminar would help young scientists, engineers, and students broaden their academic horizons and improve their research and innovation capabilities.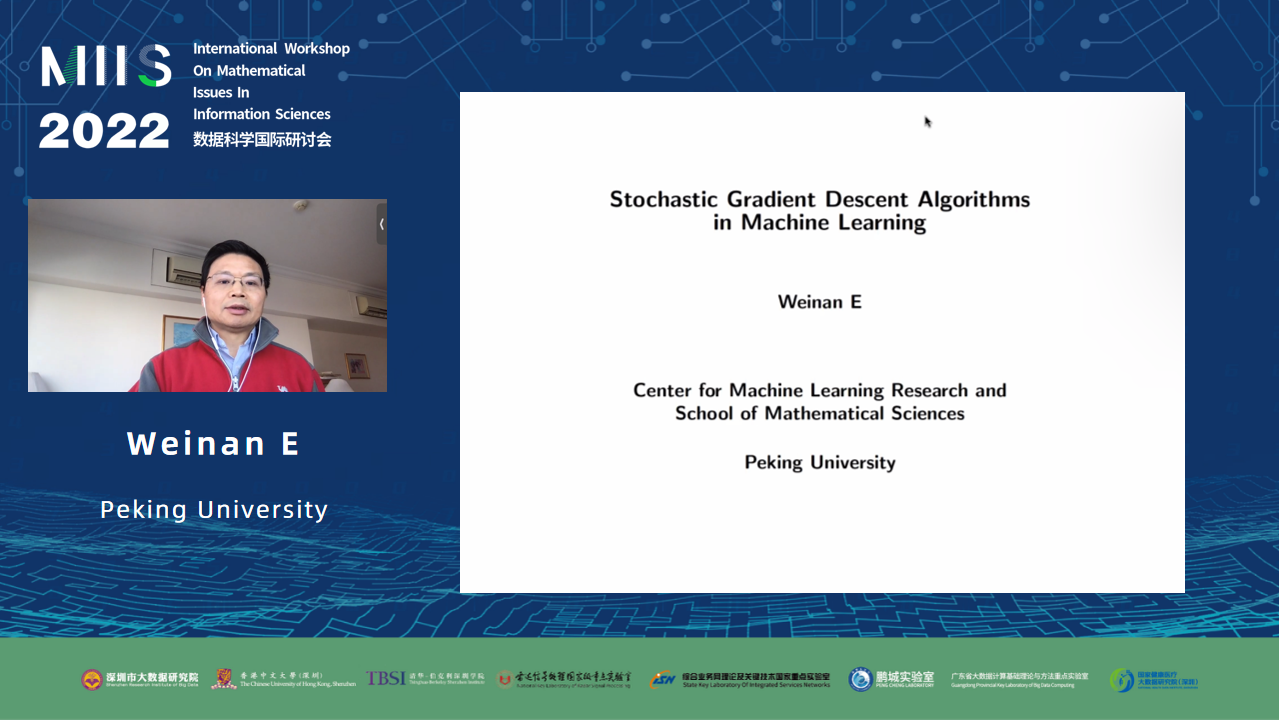 Weinan E
Peking University
Prof. Weinan E's report is titled "Stochastic Gradient Descent Algorithms in Machine Learning". In this talk, Prof. E focused on the most popular stochastic gradient descent algorithm in the field of machine learning, and he studied its convergence theory from a perspective of stochastic modified equations. The report mainly involved its convergence characteristics, optimal learning rate, and batch size. It's shown that the stochastic gradient descent algorithm converges to a specific global optimal point in the case of over-parameterization.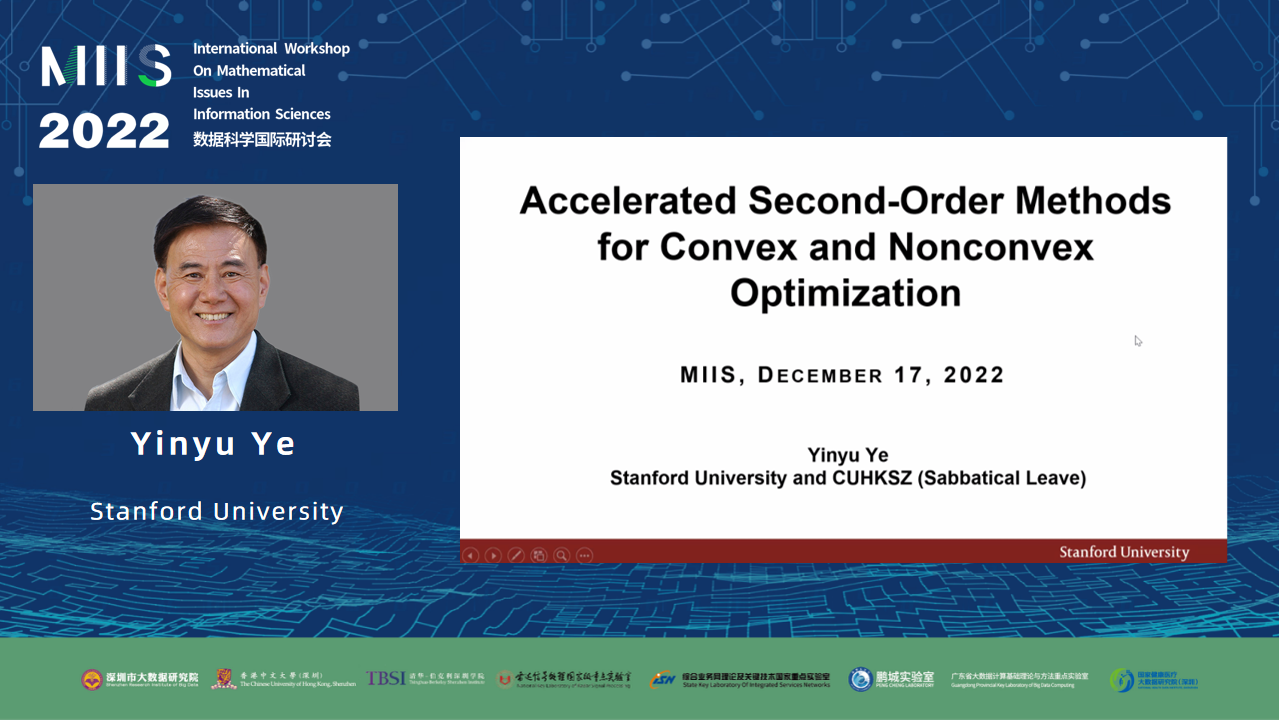 Yinyu Ye
Stanford University
Prof. Yinyu Ye's report is titled "Accelerated Second-Order Methods for Convex and Nonconvex Optimization". In this talk, Prof. Ye introduced four research topics: the optimal diagonal conjugate gradient descent method based on semi-definite technology, acceleration of second-order algorithms based on homogeneous descent direction, solving unconstrained optimization problems based on dimension reduction trust region method, and solving linear programming problems based on potential function descent method. Prof. Ye emphasized that cleverly utilizing the information in second-order methods can be used to accelerate the convergence of first-order algorithms.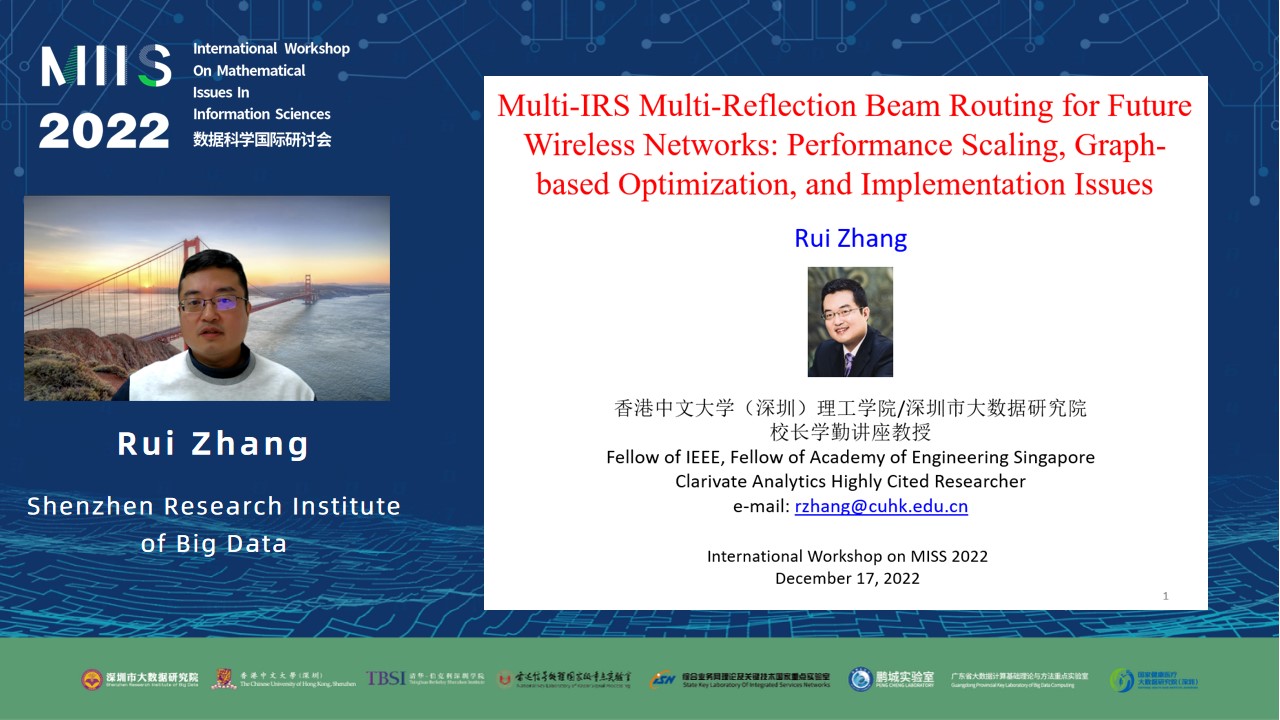 Rui Zhang  
The Chinese University of Hong Kong, Shenzhen
Shenzhen Research Institute of Big Data
Prof. Rui Zhang's report is titled "Multi-IRS Multi-Reflection Beam Routing for Future Wireless Networks: Performance Scaling, Graph-based Optimization, and Implementation Issues". In this report, Prof. Zhang first introduced the importance of intelligent reflecting surface technology in the context of 5G and compares its advantages with other technologies. Secondly, he proposed a modeling approach based on beam routing for scenarios with multiple intelligent reflecting surfaces. Finally, Prof. Zhang proposed an optimization strategy based on graph theory to solve such models.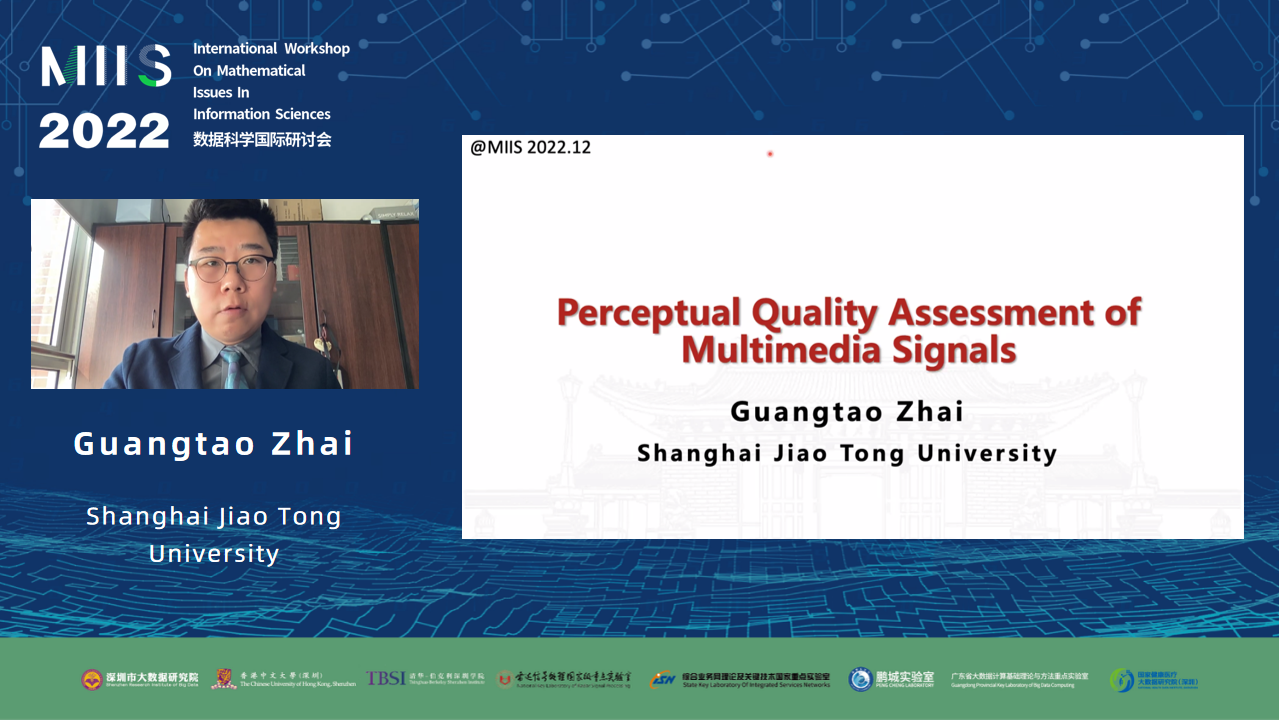 Guangtao Zhai
Shanghai Jiao Tong University
Professor Guangtao Zhai's presentation is titled "Perceptual Quality Assessment of Multimedia Signals." Multimedia signals have become our primary source of information, and the average screen time for both young people and adults reaches 9 to 10 hours per day. However, the quality of multimedia signals is often negatively affected by environmental factors, devices, and operations during the collection, compression, transmission, and display stages. Perceptual quality assessment algorithms aim to evaluate the audience's QoE (Quality of Experience), thereby providing optimization targets for multimedia signal processing systems. Professor Zhai Guangtao introduced the challenges of multimedia perceptual quality assessment in his report, as well as attempts to use methods such as free energy models and catastrophe models to expand subjective visual effects. Finally, Professor Zhai also discussed the cutting-edge issues in this field.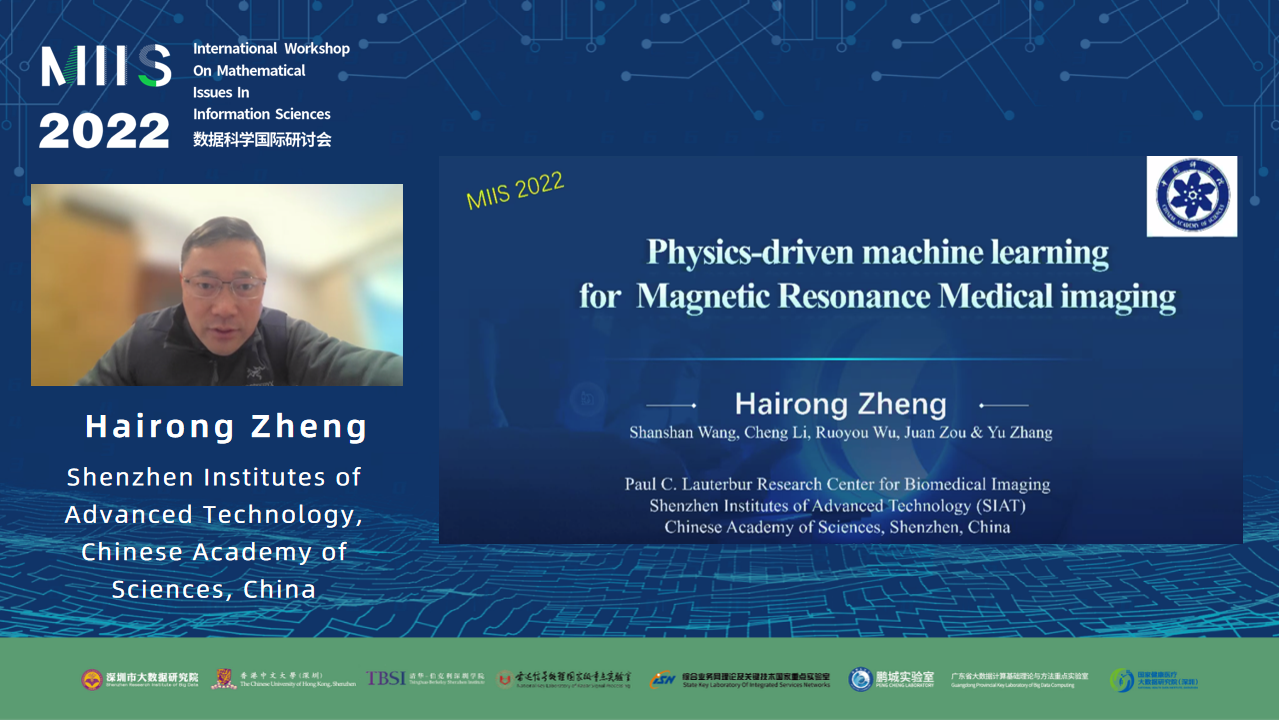 Hairong Zheng
Shenzhen Institutes of Advanced Technology, Chinese Academy of Sciences, China
Professor Hairong Zheng's presentation is titled "Physics-Driven Machine Learning Methods for Magnetic Resonance Imaging." In recent years, machine learning methods have been widely applied in medical imaging, with magnetic resonance imaging (MRI) being a common imaging modality in clinical diagnosis and a hot topic in scientific research. Unlike the restoration of natural images, machine learning-based MRI methods involve specialized domain knowledge, such as Fourier encoding, multi-contrast, and multi-slice, which require data-driven methods for resolution.
In the presentation, Professor Hairong Zheng introduced physics-driven machine learning methods for fast and intelligent MRI, covering learning theory, imaging electronics, and various imaging applications. He also presented many open questions, which would be crucial for future research in reliable and interpretable medical imaging systems.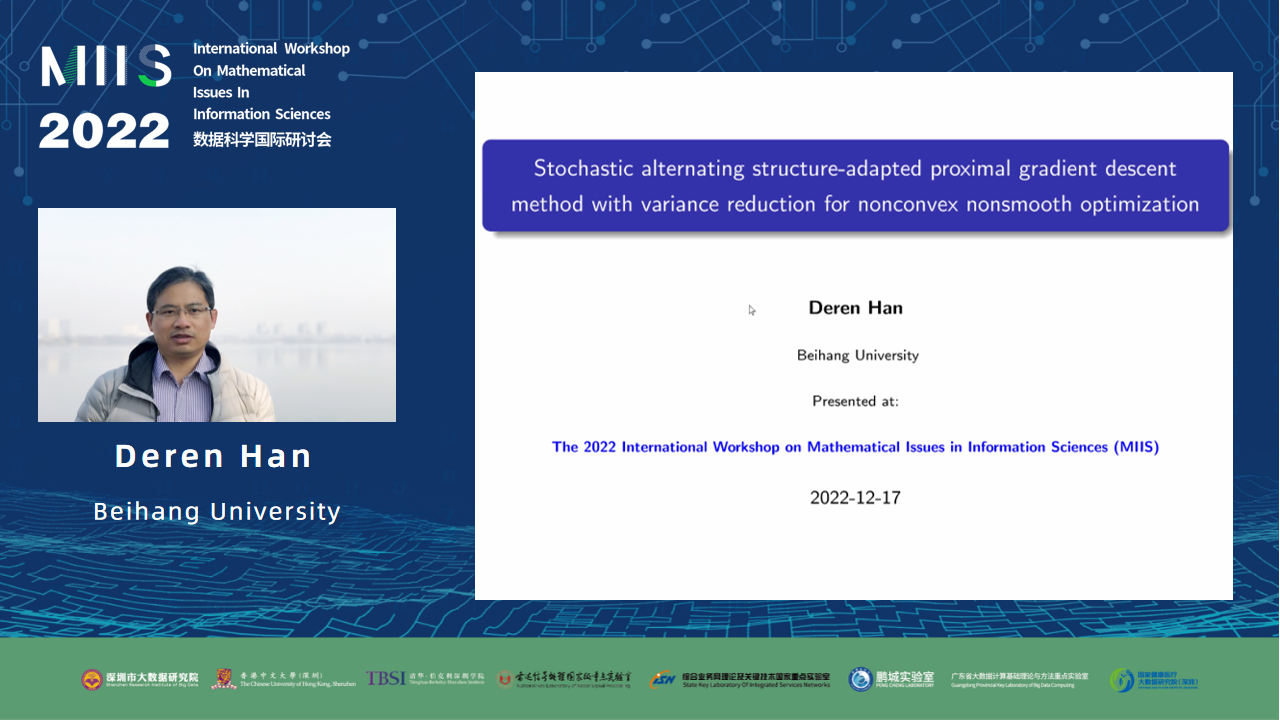 Deren Han
Beihang University
The topic of Professor Deren Han's presentation is "Stochastic Alternating Structure-adaped Proximal Gradient Descent Method with Variance Reduction for Nonconvex Nonsmooth Optimization". Professor Han introduced a stochastic alternating structure-adapted proximal (s-ASAP) gradient descent method for solving the block optimization problems, and he applied this algorithm in image processing. The sublinear convergence rate of s-ASAP method is proved and the linear convergence rate is also attained under some mild conditions.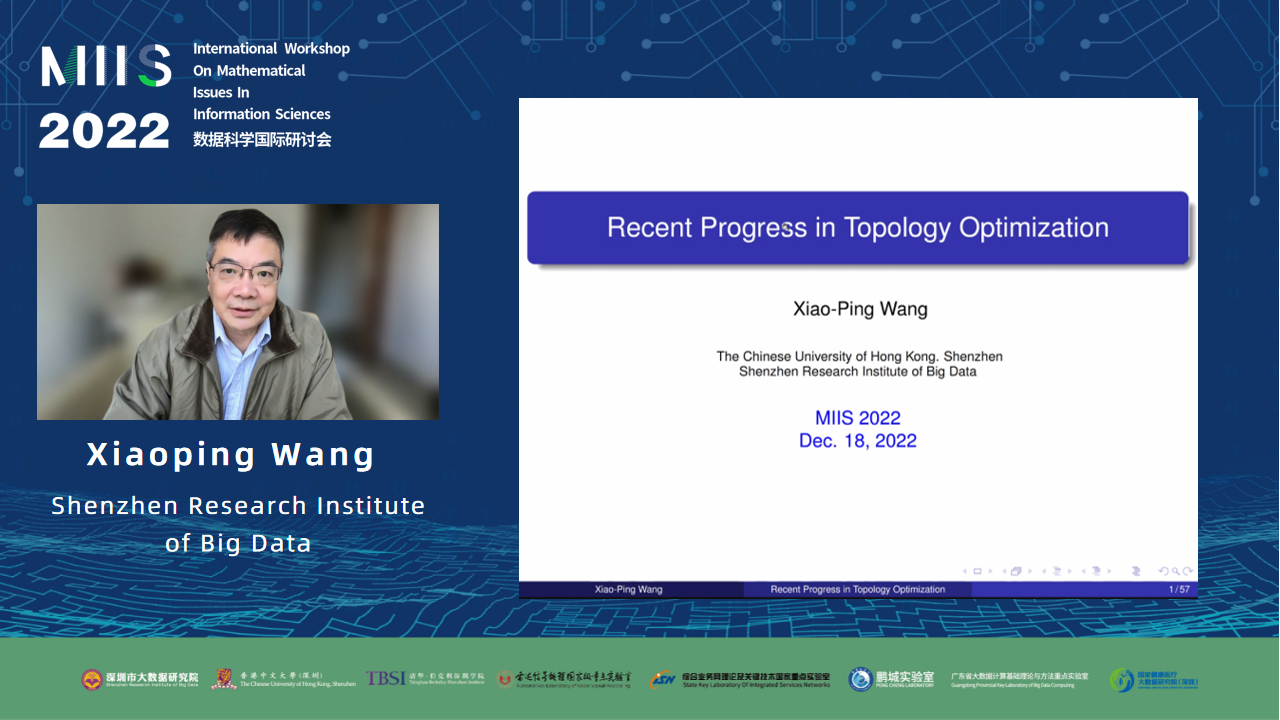 Xiaoping Wang
The Chinese University of Hong Kong, Shenzhen
Shenzhen Research Institute of Big Data
Prof. Xiao-Ping Wang's presentation is about "Recent Progress on Topology Optimization". In this presentation, Prof. Wang introduced the latest developments in topology optimization. Topology optimization is a mathematical method for optimizing material distribution in a given region based on fixed load conditions, constraints, and performance metrics. As raw material cost increases, it becomes necessary to optimize the design of mechanical parts in the early stages. Topology optimization can be widely used in industrial technologies such as metal 3D printing and additive manufacturing. Prof. Wang has proposed a new topology optimization method based on the threshold dynamics method for linear elasticity, fluid networks, and porous media problems. This method has the advantages of simplicity, high efficiency, and strong robustness.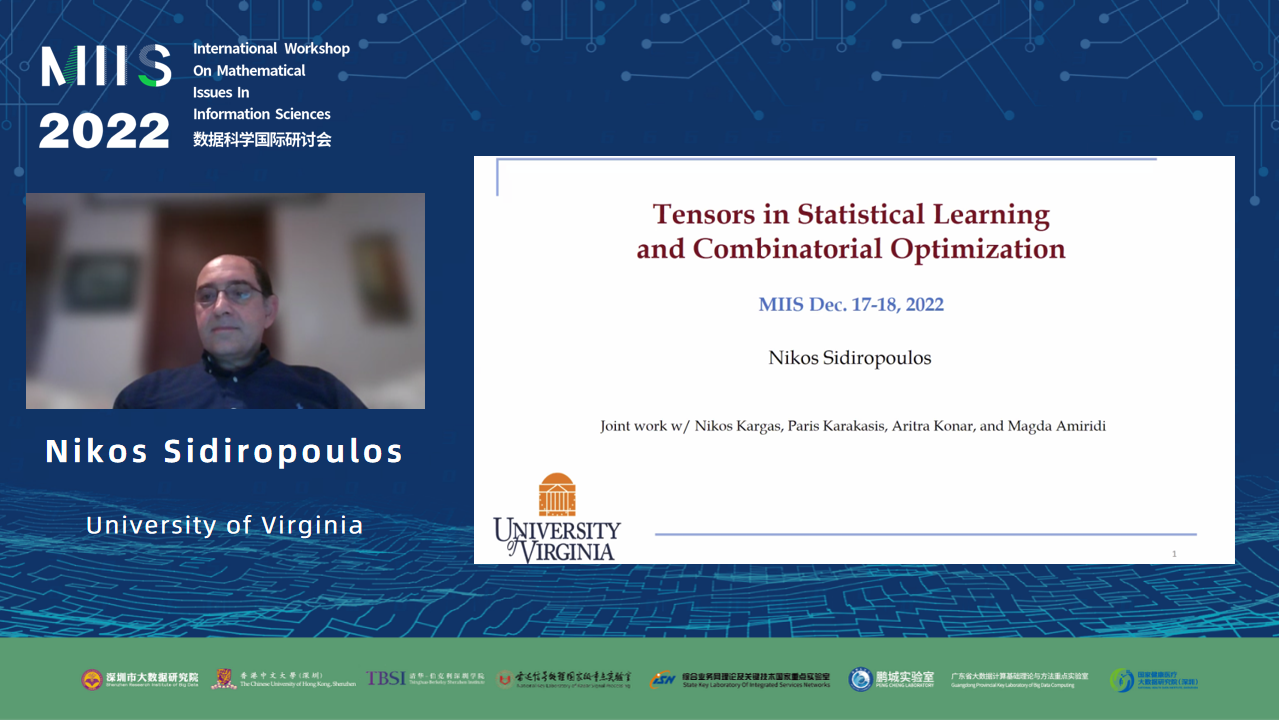 Nikos Sidiropoulos
University of Virginia
Professor Nikos Sidiropoulos' report is titled "Tensors in Statistical Learning and Combinatorial Optimization". Based on his recent research, he reviewed some recent work on the use of low-rank tensor models in multivariate probability, density estimation, supervised learning, and combinatorial optimization. In his talk, Professor Sidiropoulos used the naive Bayes model as an example to demonstrate the feasibility of estimating high-dimensional distribution functions using marginal distribution functions. Additionally, he shared some progress and thoughts on establishing a connection between low-rank tensor models and combinatorial optimization.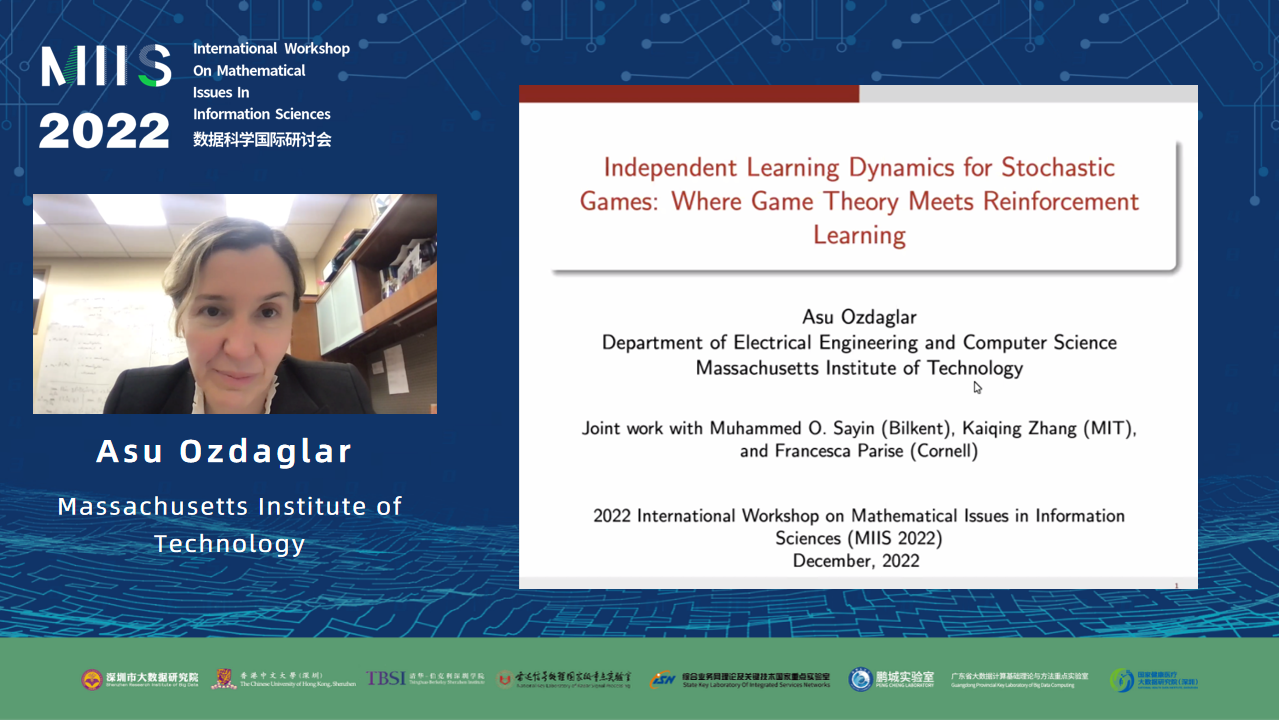 Asu Ozdaglar
Massachusetts Institute of Technology
Prof. Asu Ozdaglar's report is titled "Independent Learning Dynamics for Stochastic Games: Where Game Theory Meets Reinforcement Learning". She discussed the latest developments in game theory and reinforcement learning. Reinforcement learning has been widely applied in artificial intelligence, such as in games like Go, autonomous driving, and robotics, which involves multiple agents. However, traditional reinforcement learning frameworks are not suitable for multi-agent learning, as they assume that the environment of agent is stable and do not consider adapting to other agents. To address this issue for multi-agent reinforcement learning in dynamic environments, Prof. Ozdaglar developed an independent dynamic learning method. In this method, each agent can independently choose the best response action towards other agents without coordination. This method can ensure the convergence of zero-sum and same-interest settings for stochastic games, and effectively solves the problem of multi-agent learning faced by traditional reinforcement learning frameworks.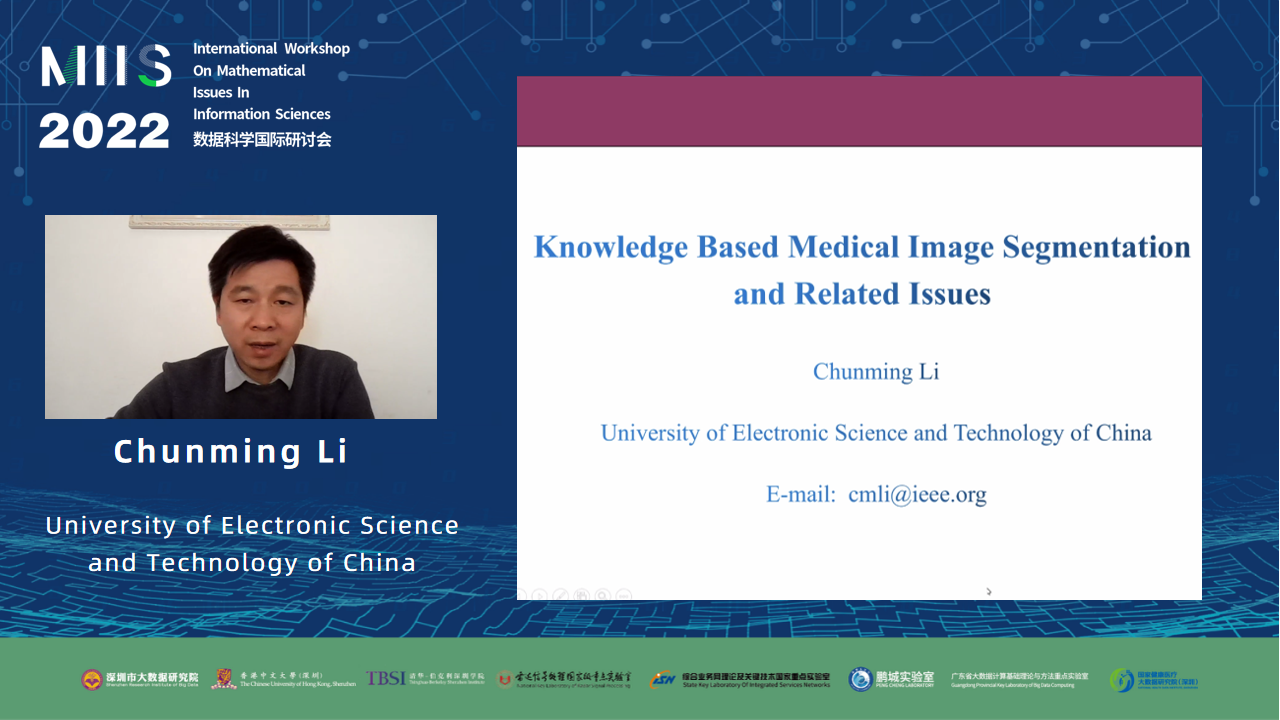 Chunming Li
University of Electronic Science and Technology of China
Professor Chunming Li's report is titled "Knowledge Based Medical Image Segmentation and Related Issues." The focus of the talk was on medical image segmentation, and Li introduced a series of knowledge-based methods for medical image segmentation, as well as mathematical models and algorithms for correcting grayscale non-uniformity. These methods have a solid theoretical foundation, and their mathematical models and algorithms are concise and transparent, with ideal interpretability. The experimental results also confirm the effectiveness of these algorithms and the advantages of their segmentation accuracy.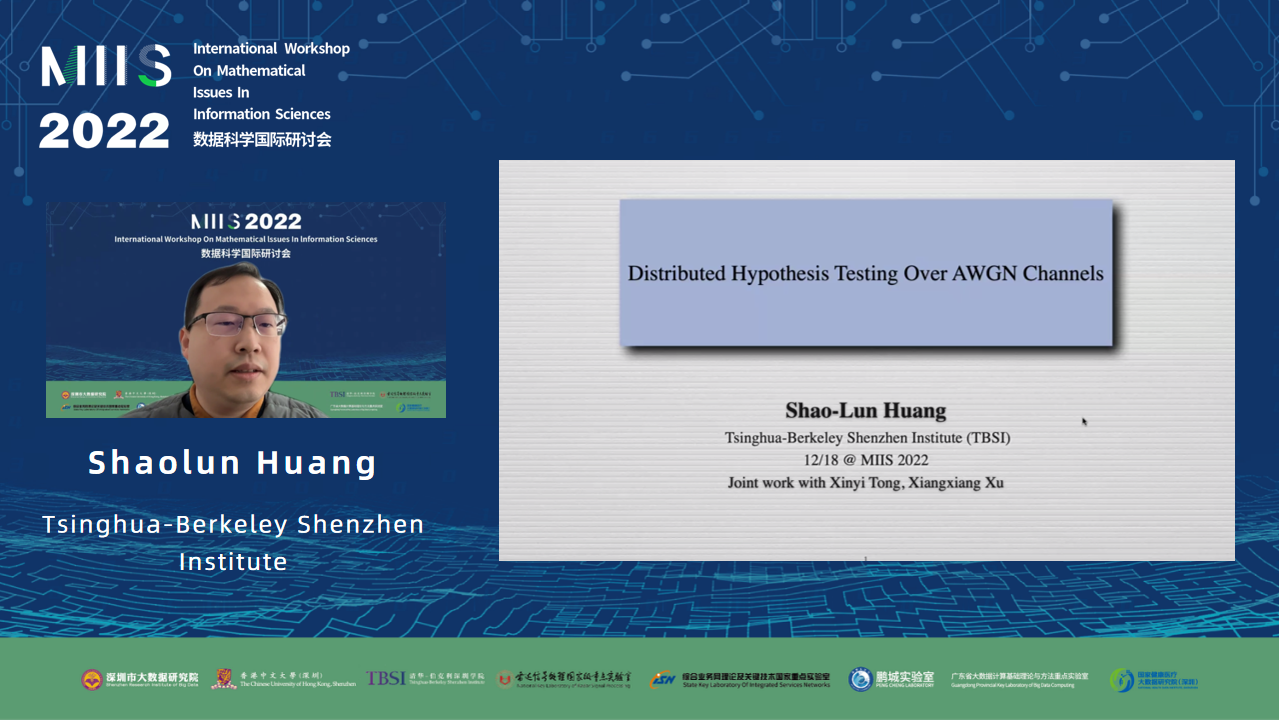 Shaolun Huang
Tsinghua-Berkeley Shenzhen Institute
Professor Shaolun Huang's report is titled "Distributed Hypothesis Testing Over AWGN Channels". Professor Huang's report focused on the problem of distributed hypothesis testing over AWGN channels. To address computational issues, he suggested focusing on coding schemes based on empirical distributions rather than raw data. Under this framework, he further proposed a coding strategy based on a mixture of decoding and forwarding, where the achievable error exponent could be characterized and interpreted through information geometry. Additionally, he proved the optimality of this achievable error exponent. Finally, he described the power quantity required to achieve the optimal error exponent.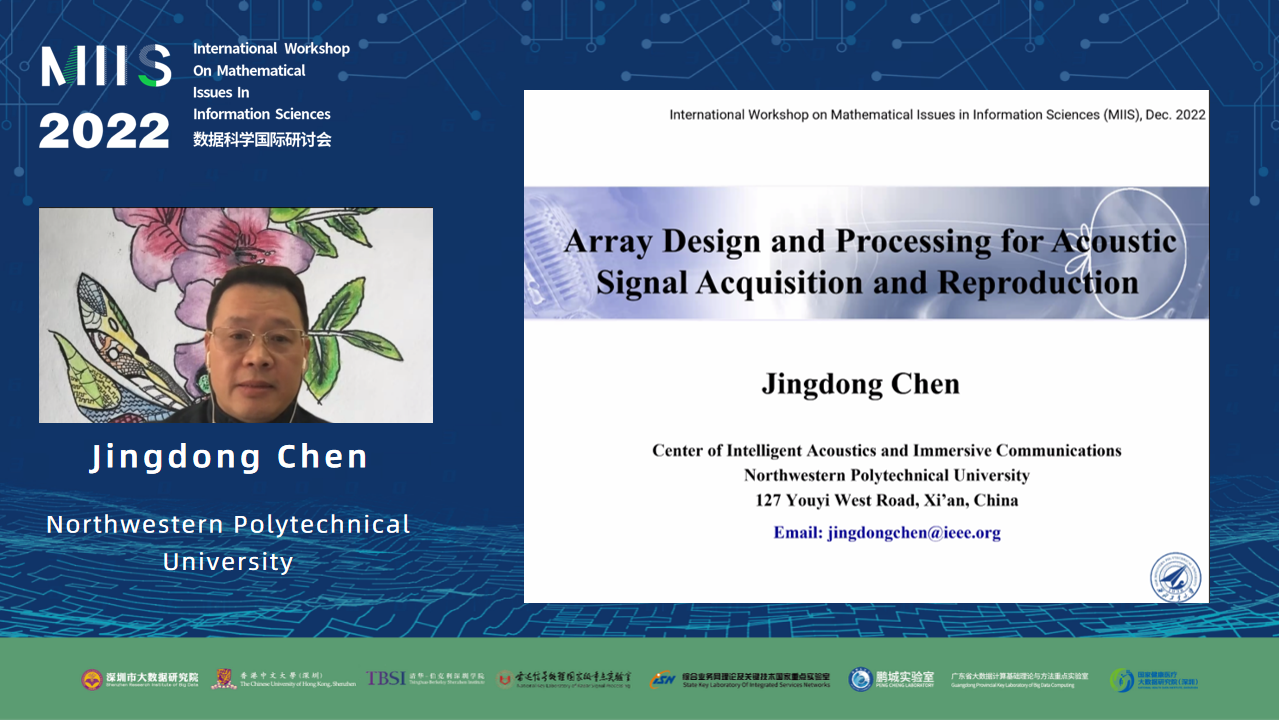 Jingdong Chen
Northwestern Polytechnical University
Professor Jingdong Chen's presentation is titled "Array Design and Processing for Acoustic Signal Acquisition and Reproduction". Professor Chen introduced the characteristics and basic methods of acoustic signal processing, with a focus on the method of beamforming for acoustic signal processing. He also provided a detailed analysis of beamforming techniques in comparison to those used in radar signal processing and wireless communication.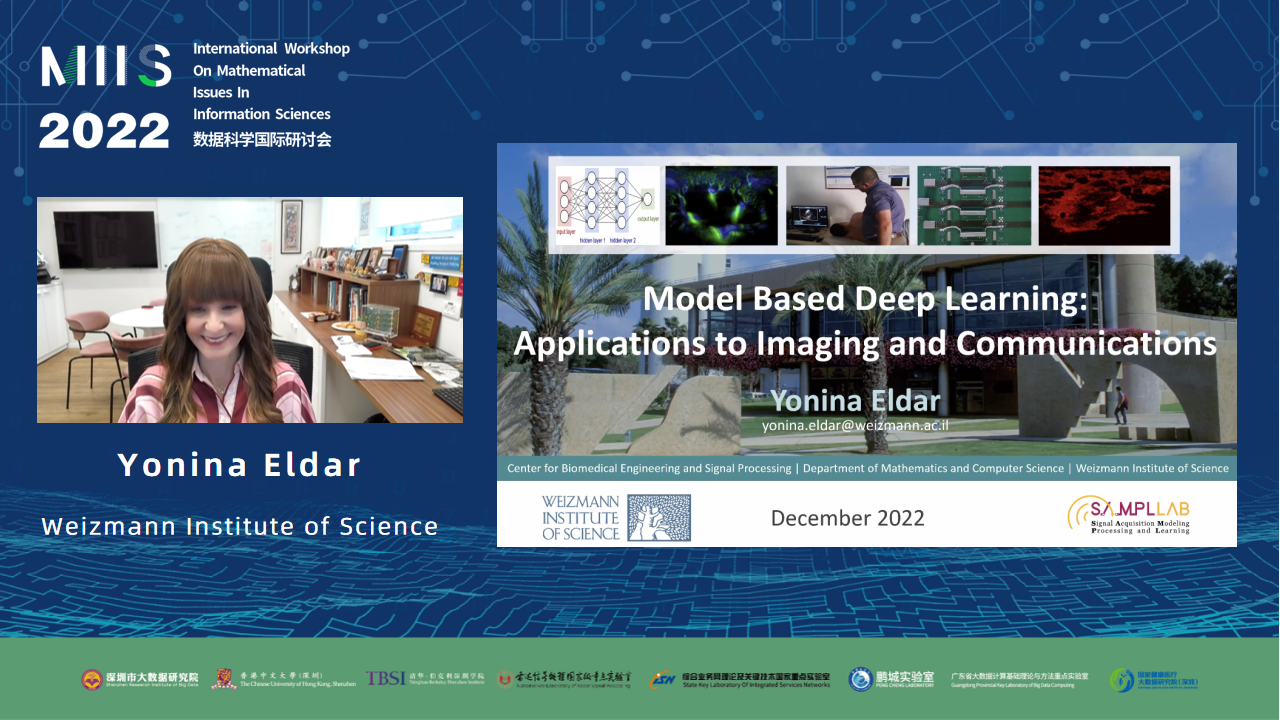 Yonina Eldar
Weizmann Institute of Science
Professor Yonina Eldar's report is titled "Model Based Deep Learning: Applications to Imaging and Communications". Professor Yonina Eldar introduced the model-based deep learning approach, specifically discussing two techniques in this field. She showcased the application of this approach in various fields such as wireless communication, ultrasound diagnosis, and image super-resolution, and demonstrated its excellent performance.
Binglong Chen
Sun Yat-sen University
Professor Bing-Long Chen's presentation is titled "Hyperbolic Curves in Complex Geometry". The talk discusses various notions of hyperbolicity in complex geometry. Professor Chen primarily presented their recent work from a topological perspective. He first introduced the fundamental geometric concepts such as Kähler curvature, Kobayashi curvature, isoperimetric inequality, and radial isoperimetric inequality in an accessible manner. Finally, he provided a detailed explanation of the main radial isoperimetric inequality theorem and its proof strategy.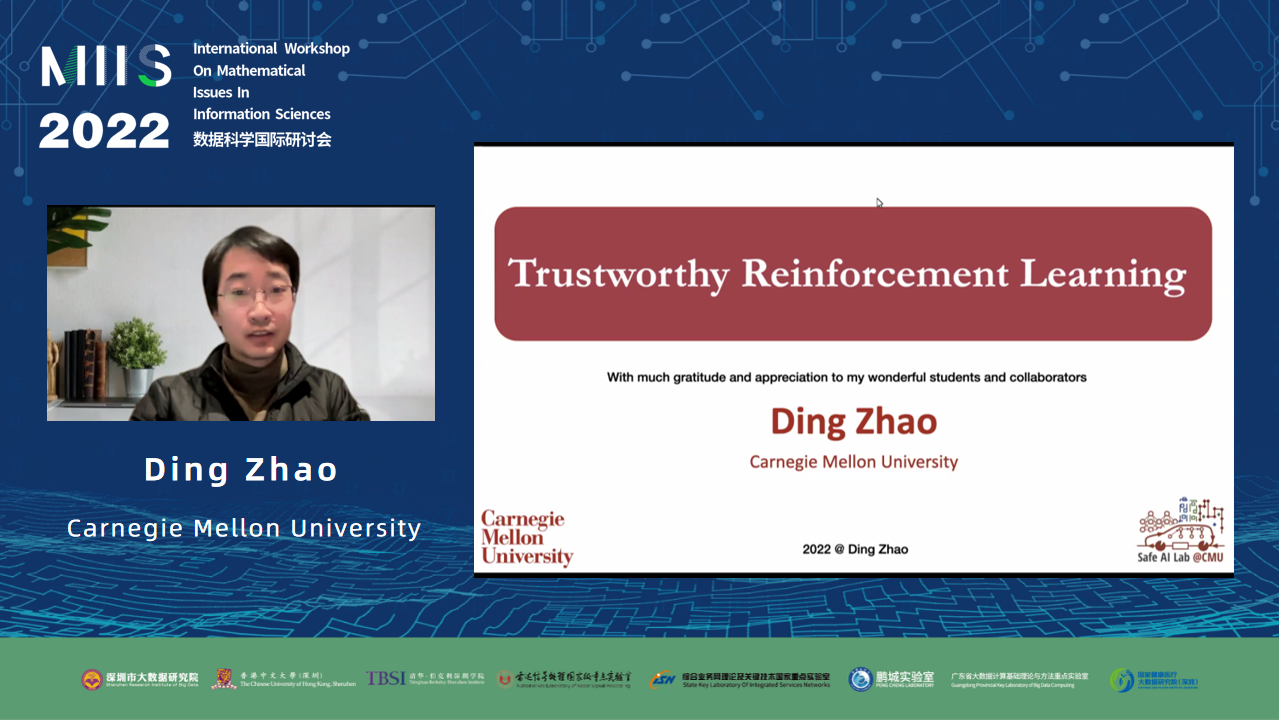 Ding Zhao
Carnegie Mellon University
Professor Ding Zhao's gave a presentation of "Trustworthy Reinforcement Learning," which discussed the enormous potential of reinforcement learning (RL) in applications such as transportation, manufacturing, security, and healthcare, as well as the risks and hazards associated with its rapid development. In this presentation, Professor Zhao provided an overview of trustworthy reinforcement learning from three aspects: robustness, safety, and generalization. He introduced each category's classification, definition, methods, and popular benchmark tests. Also, he shared his experiences in RL research and experimentation and his outlook for future research directions.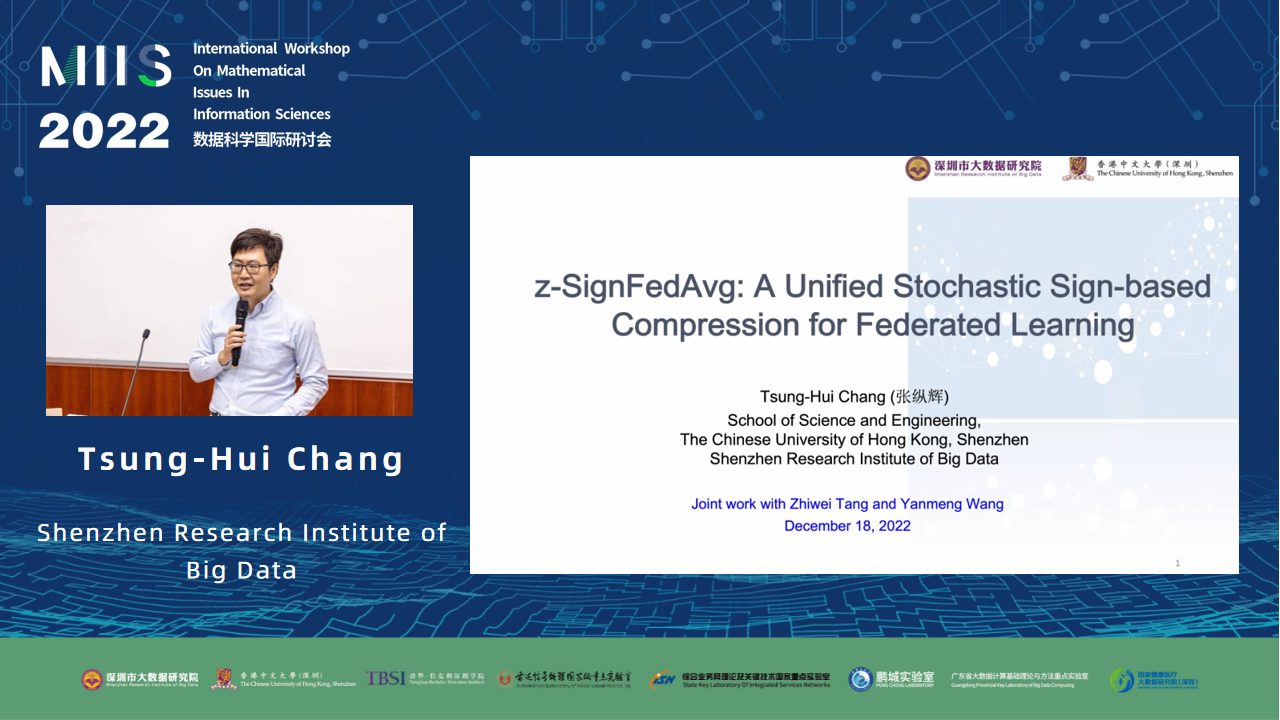 Tsunghui Chang
The Chinese University of Hong Kong, Shenzhen
Shenzhen Research Institute of Big Data
Professor Tsunghui Chang's talk is titled "z-SignFedAvg: A Unified Symbol-Based Federated Learning Compression Approach." In this talk, he mainly discussed the pros and cons of federated learning and explores the high communication cost issue when training large-scale machine learning models. He introduced a new federated learning compression algorithm proposed by his team. Professor Chang explained that his team has proposed a new noise perturbation scheme with a general symmetric noise distribution for symbol-based compression. This scheme can flexibly control the trade-off between gradient bias and convergence performance and provide a unified processing perspective for existing symbol-based compression methods. In addition, his team proposed the first symbol-based FedAvg algorithm (z-SignFedAvg). Theoretically, z-SignFedAvg achieved a faster convergence rate than existing symbol-based methods and can enjoy the same convergence rate as the corresponding uncompressed method under uniform noise distribution.
Finally, Dr. Ping Lee, Executive Director of SRIBD and Academician Zhi-Quan (Tom) Luo, gave closing remarks at the conference.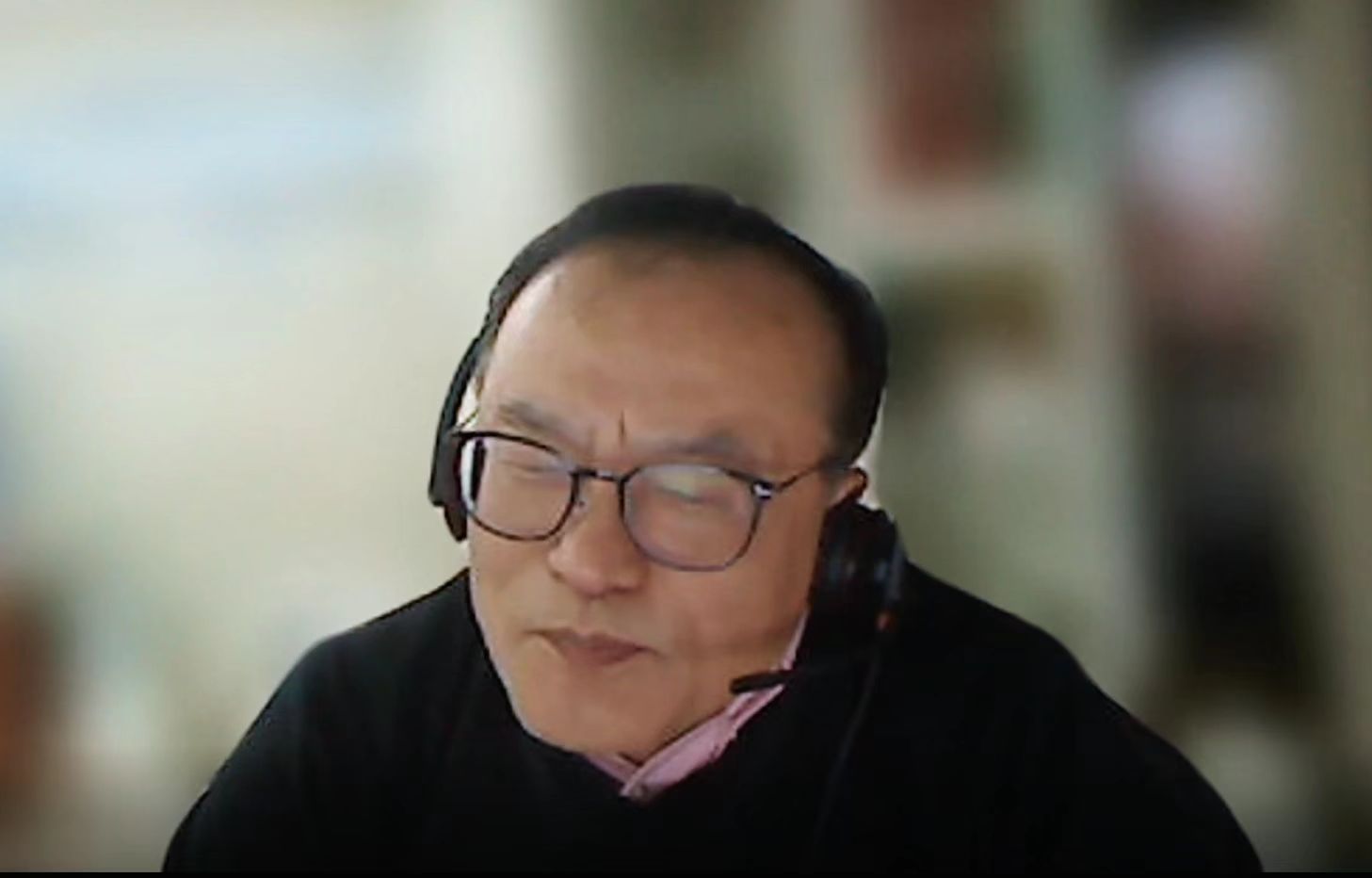 Ping Lee
Executive Director of Shenzhen Research Institute of Big Data
Dr. Ping Lee stated that the MIIS conference is one of the most important international academic conferences hosted by SRIBD. They hope to provide a platform for scholars and engineers around the world to exchange academic ideas, establish close connections, and jointly promote the development of the big data discipline. He also expressed his gratitude to all the friends who made efforts for this conference, including partner organizations, academician Yuan Yaxiang, conference organizers, and attendees.
Academician Zhi-Quan (Tom) Luo mentioned that the MIIS conference was hosted by Xidian University in 2012, and has been held for 11 years from Beijing to Shenzhen. In the future, SRIBD will continue to adhere to the purpose of hosting the conference and move forward.